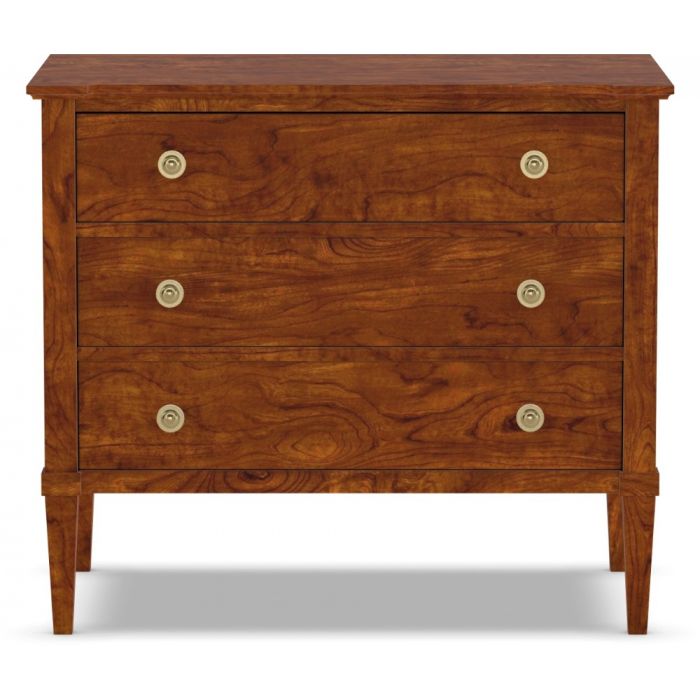 Monaco 35″ 3-Drawer Nightstand
Four-sided tapered feet and simplified transitions between elements of the Monaco Collection cases add grace and simplicity. We call the style modern traditional. Made with local and sustainably harvested solid Appalachian hardwood. Kiln dried lumber is hand selected for grain and color characteristics. Built-to-order by a craftsperson who signs and dates the piece. Board-by-board finish […]
Starts at: $1758
Login or Register to request a price.
A place to save all quote requests.

Four-sided tapered feet and simplified transitions between elements of the Monaco Collection cases add grace and simplicity. We call the style modern traditional.
Made with local and sustainably harvested solid Appalachian hardwood. Kiln dried lumber is hand selected for grain and color characteristics. Built-to-order by a craftsperson who signs and dates the piece. Board-by-board finish process highlights the beauty of the wood. Catalyzed lacquer top coat forms a clear, efficient, highly-protective barrier with a close-to-the-wood feel.
Handmade in choice of Ash, Cherry, Maple, Walnut & Paint
Select from 64 wood and finish combinations
Flush fitting drawer fronts give our Monaco Collection products a lighter and clean, architectural look.
Installed below the drawer box, undermount drawer glides contribute to a simple and clean appearance, rugged support of drawer contents, and a positive feel to drawer opening and a soft close.
Partial extension drawer glides allow for access to the full depth of the drawer and contribute to product stability.
Our strong, stable drawer boxes are made from solid ash wood and a solid ash three-ply bottom for a rattle-free fit.
Dovetail joinery adds both strength and beauty to our drawer boxes.
Hardware: Small Grace Knobs in Satin Brass, Polished Nickel, or Burnished
35″
3-drawers
Dimensions: 34.5"w x 20"d x 30"h