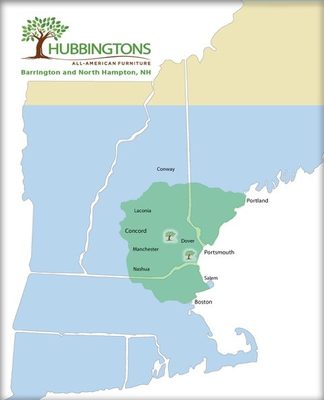 There are lots of options to get furniture to most of New England!  (If you are outside New England, and would like to buy from us we do have some possible ways to ship to you.  Email us and we'll see if we can make it work with a reasonable freight rate.)
Our delivery program is set up for efficiency and simplicity.  We know many of you appreciate our low prices and hate to add on too much more for home delivery.  It can be a bit confusing for a customer so read through and call us and we can advise you of the option we would use for your delivery.
Green Zone
All furniture orders in this zone ship into our Barrington, NH location and are delivered on our trucks for $135 regardless of the size of the order.  This is inside white glove delivery.  Items bought from the clearance room inside delivery is $169.  We do not deliver clearance items outside the Green Zone (pickup only).
Blue Zone
This part of New England we cover with our truck and independent delivery companies.  The choice of delivery service is based on your location/size of your order and is determined by Hubbingtons.  The base price for this delivery is $259 for an assisted delivery on your end.  Hubbingtons will send out your order with one delivery person and you need to provide a strong capable additional person on your end. Our goal here is completed inside delivery but that will be contingent on the skill of the additional person your provide.  ($2000 minimum/orders only–no clearance/delivery at store convenience)
Summer 2021 offering free pick up of patio furniture late Sunday afternoons in Orleans!
Yellow Zone
This includes northern NE and the coastal islands and the rest of the continental USA.  Let us know what you are looking for and we'll let you know if we have a preferred delivery company that we can use for your delivery.  These orders would all be quoted for delivery costs.
How Delivery Works:
Green Zone
We do these deliveries typically on Thursdays & Saturdays. We'll call you when your order arrives complete and let you know the next time we will be in your area.  With delivery being on our truck we do collect all required state sales tax for your state.
Blue Zone
We advise you at the time of order if we will deliver your order on our truck or by independent service, and whether collecting state tax is required.  Although we cannot take requests for certain times, you can ask for your furniture to be held for the next delivery cycle if the current schedule doesn't work for you.
Yellow Zone
Depending on the delivery service, we will quote and advise you how this will work.
Pick up in Barrington!
For maximum flexibility and no sales tax collection, pick up your order at our Barrington, NH facility during normal business hours.  We sell moving pads and can help you wrap your furniture so it gets home safely.