SunSurf Lounge
Bask in style with the SunSurf Chaise Lounge. This poly lumber chaise lounge is the perfect addition to your poolside furniture collection. What is a chaise lounge? The chaise lounge also known as a patio lounger is a stretched out chair that is long enough to support the legs. While commonly found indoors, chaise lounges […]
Starts at: $654
Login or Register to request a price.
A place to save all quote requests.
Categories:
Accessories
,
Benches & Swings
,
Outdoor
,
Adirondack
,
Finch
,
Adirondack Chairs
,
Dining Furniture
,
Rockers/Gliders
,
Lounge Furniture
,
Picnic Tables
,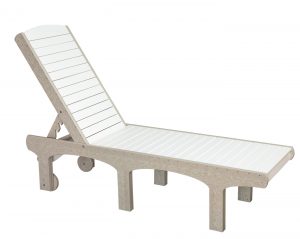 Bask in style with the SunSurf Chaise Lounge. This poly lumber chaise lounge is the perfect addition to your poolside furniture collection. What is a chaise lounge? The chaise lounge also known as a patio lounger is a stretched out chair that is long enough to support the legs. While commonly found indoors, chaise lounges have found a new life as outdoor furniture pieces. Handcrafted in Lancaster County, Pennsylvania, our outdoor chaise lounge features an adjustable back. With five different back positions, you can read a book while drinking lemonade or lay flat to get a golden tan. Ready to move into the shade? No problem! Simply pick up the front and wheel the lounge to wherever you want to go.
To complement its unique design, our chaise lounge is available in a wide variety of colors. Whether you mix and match or choose a solid color, you'll never have to worry about repainting your chaise lounge. Our pool and patio furniture is made to withstand typical wear and tear that most wooden furniture experiences. No more maintenance worries. Just lay back and relax.
Dimensions: 80"w x 22"d x 16"h
More from the Adirondack collection